The Latest watchOS 10 Watch Face Drop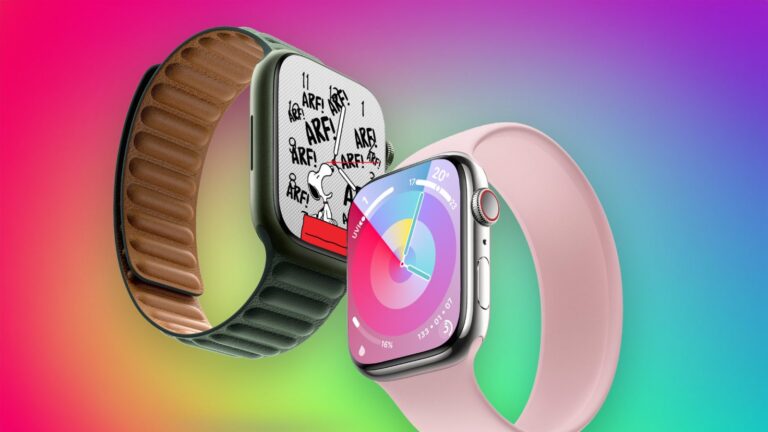 Smartwatch enthusiasts, it's time to rejoice. Apple has confirmed that the long-awaited watchOS 10 is finally on the horizon. The tech giant has stated that we'll likely see the update by September 2023, and we can't wait to see the new updates.
Alongside a modern look for apps and a fresh Smart Stack feature, users will be treated to two all-new watch faces – 'Snoopy' and 'Palette.' 
We're diving into the upcoming watchOS 10 watch faces to ensure all Apple Watch users are ready for the update. We cover all bases, from the latest information to in-demand FAQs. Scroll down to get started.
The Lowdown On The New watchOS 10 Watch Faces
Watch faces for Apple Watch users are always innovative. So, we're expecting the latest additions to make a splash. Let's dive into what the Snoopy and Palette watchOS 10 faces offer.
The Snoopy Watch Face
The Snoopy watch face is set to depict the famous Peanuts comic character, a beloved cartoon everyone should recognize. Alongside the distinguished mutt is his friend Woodstock, a bright, yellow bird.
Within the watch face, Snoopy will be able to react to weather trends, play and respond to the watch hands, and get active while you're working out. You'll also be able to switch between different bespoke animations when you raise your wrist — talk about interactive!
When the Snoopy display is dimmed, the characters will appear asleep. But note this only works with Apple Watches that offer the Always-on display.
The Palette Watch Face
Alternatively, the new Palette watch face shows the time as "a range of beautiful colors that shift throughout the day." Using three distinct overlapping layers, designers have developed a way to tell the time based on different hues.
The Palette watch face can even be customized with different shades and gradient patterns. Plus, Apple Watch users can add a maximum of four complications in the corners.
A luxury Apple Watch face that fits any aesthetic. We dig it.
Customizing Your Apple Watch Face
Each watchOS update modernizes and improves the smartwatch's capabilities. However, sometimes the available watch faces leave something to be desired. And that's where we come in.
The Watch Faces app is designed to help you take control of your watch face style. With over 10,000 readily available photos and designs, you can create designs that rival the best Apple watch faces.
Forget waiting for the next update. Construct your own watch faces now.
Learn more about the app and download it today.
Apple watchOS 10: Frequently Asked Questions
Got more questions? Check out the common FAQs surrounding watchOS10 watch faces.
How Do I Download watchOS 10?
watchOS 10 will be available for downloads from September 2023. After this date, you can install the update via "Software Updates" in your watch settings.
Does Apple Update Watch Faces?
Apple adds new watch faces with each watchOS update. These updates occur annually.
Can I Download More Watch Faces for Apple Watch?
Yes, new watch faces are available via third-party apps, and you can customize Apple's watch faces for a unique look.
How Do I Add Third-Party Watch Faces to My Apple Watch?
Search for "watch face" apps on your watch or iPhone to download third-party watch faces. Download one of these apps and browse their collections. When you see a watch you like, select it, and add it to your collection.
Related posts
New watchOS updates are the highlight of any Apple enthusiast's calendar, especially when they include widget updates and a complete interface overhaul. If you've been counting the days until a watchOS 10 update, we have some excellent news — Apple has released an overview of the next operating system. Announced at the WWCD in June […]
Read more